HIGH EFFICIENCY SOLAR MODULES
Our 3rd generation of 300 Wp SW Premium panel is breed of its own. Made purely of mono crystalline silicon cell it is build for high performance and dependable durability to withstand even the harshest of weather conditions. It's 18 micor-wires throughout the cell to generate over 2000 connections points of electricity and its sleek designs helps capture 1 more hour of sunshine per day resulting in up to 20% more energy for the home versus standard technology panels.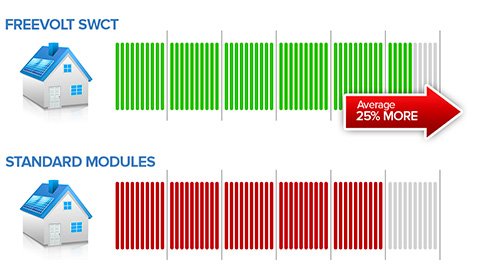 30 years guarantee on the product
Temperature fluctuations and salt-mist resistant
Increased strength and durability of the solar cell
Thermal stress relief encapsulation technology

Energy production 10% higher compered to standard busbar technology
PV industry-leading efficiency coefficient
Short term investment return
Lower costs of exploitation
Higher profit per square foot

Less impact of shade on energy gain
Eliminated influence of micro cracks on modules power
Possible wireless communication with photovoltaic installation
Remotely controlled efficiency and work of photovoltaic installation

WE MANUFACTURE OUR MODULES
FreeVolt manufactures their own solar modules which are some of the most efficient on the market and backed by an industry leading 30 year warranty.

PERFORMANCE GUARANTEE
FreeVolt Guarantees for a duration of ten years that performance does not fall below 98% of the miniumum performance. Furthermore, FreeVolt guarantees for a duration of 25 years that performance does not fall below 96% of the minimum performance.
SKONTAKTUJ SIĘ Z NAMI
W CELU UZYSKANIA DARMOWEJ WYCENY
Wypełnienie formularza jest łatwe i szybkie. Nasz przedstawiciel skontaktuje się z Tobą w celu przedstawienia bezpłatnej wyceny.
Jeśli wolisz sam zadzwoić wybierz nr.
BIURO
- 737 737 994